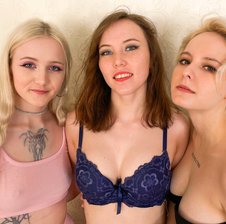 JudyDaniels
Prikvači modela
Otkvači modela
19, Bik, Poland, Warsaw
Posljednji login:
14.09.2022. 15:12:43
Bitni detalji od JudyDaniels
| | |
| --- | --- |
| Spol | Par žensko + žensko |
| Seksualna preferencija | Biseksualni |
| Dob | 19 |
| Visina | 5'4" - 5'6" [160cm - 170cm] |
| Težina | 100 - 120 lbs [45 - 55 kg] |
| Kosa | Plavuša |
| Oči | Smeđe |
| Etnička pripadnost | Bijelac/Kavkaski |
| Jezici | Engleski |
| Rodni grad | Warsaw |
| Stidne dlake | Obrijana |
| Poprsje | Srednji |
| Guza | Srednji |
Što nas napaljuje
We get very excited when members activate our interactive toys, when people say a simple thank you at the end of a private session, when people don't ask to do everything for free.
O nama
About Michelle:
Hi! My name is Michelle, I'm 18 years old. I like The Neighbourhood and Linkin Park, Netflix series and Marvel movies which I sometimes watch in the original language to practise my English. I am currently studying for a degree in Linguistics. For me, learning languages and cultures of other countries is very interesting, it opens a lot of opportunities for me. In particular, in the future I would like to move to the US and visit all the places I want to.

About Vita:
Hi! My name is Vita, I'm 18 year old. I love different music, I'm a music lover. Most often I spend my free time with my family, I like to sit and talk with relatives. At the moment, I am not studying, but I would like to connect my life with nature in the future, for example, a veterinarian. My friend Michelle invited me here, I hope you enjoy our couple!
Što nas odbija
We really don't like it when people ask for a free show, when they demand a show from us that is prohibited by the rules of the site.
Što radimo na web kamerama
Radni sati od JudyDaniels
Amaterski isječci JudyDaniels
Fuck Pussy and Deepthroat
2:14
Pregledi

15
KUPI 16777215 tokena